PPC Brand Bidding — Why You Should Bid On Your Company Name
We frequently get asked if companies should pay for clicks when someone searches for their brand name on Google. If you search for your company name on Google you will most likely find that you are at the top of the organic search results. It is natural to assume that maybe you don't need to bid on your own company name since you show up for Google. However, you will find that most companies are bidding are their company name. To help explain this we have listed out some of the main reasons we bid on your brand name.
Brand Name Protection
Many companies bid on their competitor's names. It is not against Google's terms of service to bid on your competitors names. The only rule is that we can't use the other companies name in your ads. Since Google shows the sponsored ads at the top of the search results and then, in many cases, the map results your competitors can show up above you on the results page and show special offers and promotions and potentially take away customers that are searching for you.
The Cost Per Click On Branded Searches Is Cheap
Because quality score and competition influences what you pay for clicks it is almost impossible for you to be outbid by your competitors. We can bid clicks for your brand name way down and still have you be above any competitor that wants to target your business.
Provide Clients With Useful Information About Your Business
Using Google Ads we can offer more information about your business at the top of the search results. Google offers lots of different extensions we can use so that your company's information takes up more room and provides more useful information at the top. Here is an example of Home Depot using ad extensions at the top of a Google search result for their name: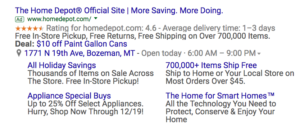 Control Your Brand Messaging
Having an ad at the top of Google when someone searches your company name allows you to control the messaging people see about your company. If you change your tagline, products, location, or services you can easily update the messaging and send people to any landing page you want.
Summary
It may not be obvious that you should protect your brand name on Google Ads but we think it is important to own the ad space for your company name. You will have better control of the messaging that your customers see and stop other companies from taking your potential business. If campaigns are setup correctly the ad spend for clicks on your brand name will be minimal and you will see the results in your campaign analytics.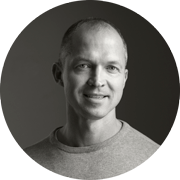 Sean Golliher
President
Sean periodically teaches as an adjunct professor on the topic of search engines and search marketing at MSU and is a member of their computer science advisory board. He completed coursework for his PhD in machine learning at MSU. He was the founder and publisher of SEMJ.org. Sean holds four engineering patents, has a B.S. in physics from the University of Washington in Seattle, and a master's in electrical engineering from Washington State University. As president and director at metric ppc, Inc. he focuses on search marketing, internet research, and consults for large companies.