Boost Conversions with Retargeting Workflows
A majority of your website visitors will not convert to clients on their first visit. Most people conduct research and do comparisons before they decide to make a purchase or use your services. Retargeting will help keep your brand to-of-mind after they leave your site by placing ads on other unrelated sites while they go through their decision process.
By placing a tracking pixel on your website we can show them ads on Facebook, Instagram, YouTube and millions of publisher and news sites that they choose to visit and send them back to your site for more information about your company.
Shown below is a diagram of how retargeting works after people visit your website: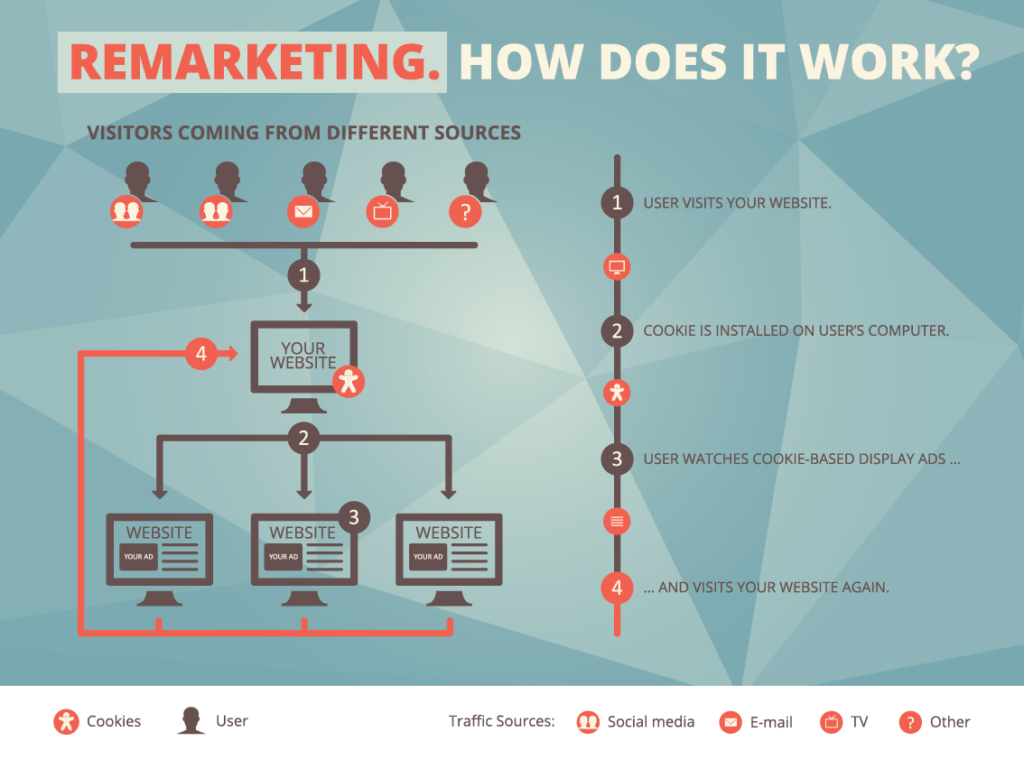 Don't Send Visitors Back to Your Home Page
It is common to see companies retargeting with ads that send visitors back to their home page. Sending visitors back to the home page ads little value because the visitors have, most likely, already been to your home page. You should be providing visitors information that guides them down a path to conversion.
To develop a successful retargeting strategy the first step is to understand the path your customers take to purchase and think about how your company provides value and solves their problems every step of the way.
Developing a Retargeting Workflow
A workflow is a marketing term that refers to a set of task and messages that are used to deliver content to potential customers (leads) at specific times in the buying cycle. Typically, this is a series of email messages, print material, and/or strategic sales calls. Workflows are developed by thinking about the path your customers take to purchase. When developing a workflow you should think about the ways your products or services solve their problems and also think about the fears and objections they have about using your services.
If you talk to sales representatives many of them will say "If I can just get them to call me I can close the sale". All of the information they are giving your leads to "close the sale" should be broken up into steps so that it can be delivered to them automatically through retargeting ads and corresponding landing pages. This allows you to take them through your sales funnel automatically and in a more subtle and efficient way than emails or sales calls.
If you have a longer brand video you can also develop a workflow by pulling out important talking points from the video and breaking them into steps. These steps can then be used in conjunctions with landing pages to build out a successful retargeting campaign.
Example: Building a Series of Calls to Action (CTAs) and Landing Pages
Once you have developed a work flow you should then break those steps into CTAs for ads and build corresponding landing pages that explain how your product or service satisfies the CTA of the ad that was delivered via retargeting campaigns. A mix of video and static ads is the best way to deliver the ad campaigns.
To demonstrate how you to develop your CTAs this let's use an example from a B2B software company. Suppose your company has a long brand video that talks about how your software saves people time, makes their jobs easier, and has won awards for its ease of use.
You also talk to your sales team and find out that to close their contracts they are telling their leads that the software is easy to install and the payment plan for the software is more affordable than their competitors.
To build your retargeting strategy you would bullet point out each CTA and then design landing pages for each CTA so that the retargeting ads can send them to a landing page that explains how your product relates to each CTA.
In this example our calls to action and landing pages could be as follows:
CTA In Ad : See How Our Software Saves You Time
Landing Page: Retargeting ads link to landing page that explains how is saves time.
CTA In Ad : Learn How Our Software Makes Your Job Easier
Landing Page: Retargeting ads link to landing page that explains how it makes their job easier.
Ad: Award Winning Software:
Landing Page: Explains the award and why your software won it.
Ad : Easy to Use Software
Landing Page: Retargeting ads link to landing page that explains how easy it is easy to use
CTA In Ad: Lean About Our Easy Payment Plan
Landing Page: Retargeting ads link to landing page that explains payment plan
Related Content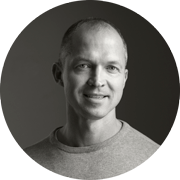 Sean Golliher
President
Sean periodically teaches as an adjunct professor on the topic of search engines and search marketing at MSU and is a member of their computer science advisory board. He completed coursework for his PhD in machine learning at MSU. He was the founder and publisher of SEMJ.org. Sean holds four engineering patents, has a B.S. in physics from the University of Washington in Seattle, and a master's in electrical engineering from Washington State University. As president and director at metric ppc, Inc. he focuses on search marketing, internet research, and consults for large companies.