Google Ads Requiring Proof Of Identity From Advertisers
In an effort to fight fraud Google announced it will require all advertisers to verify their identities. Google also announced that sometime this summer they will be revealing information about the company with a "why this ad" link above all ads as shown in the image below. This will allow users to block ads and give them additional settings to control the types of ads they see.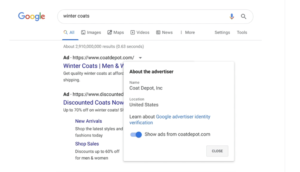 Advertisers will get a notification via email and a notification in their account saying they have 30 days to verify their identity. There are two steps to the verification process. In the first step they ask for a w9, the company address, EIN, and the name of representative.
In the second step of the process they ask for a valid ID to be uploaded by a company representative. The company representative can be the owner or a full-time employee of the company. We were also able to verify accounts using an ID from a Metric PPC representative since we are the company placing ad campaigns on your behalf.
If you want more information about Google's Identification process you can read more on their FAQ page here: https://support.google.com/adspolicy/answer/9720978?hl=en
We will notify you when your account is selected to go through identity verification and will help ensure you get through the process as quickly as possible.